DIY ROPE FRUIT COASTERS
DIY ROPE FRUIT COASTERS
Quarantine really has me dreaming of summer. I long for the days when we can head up to the lake and sit in the sun. For now all we have are crafts while we shelter in place and try to keep ourselves sane. Everything that was used for this project I already had in my stash of craft supplies. If you want to make these and don't have everything please wait until it is safe to go out for nonessential items.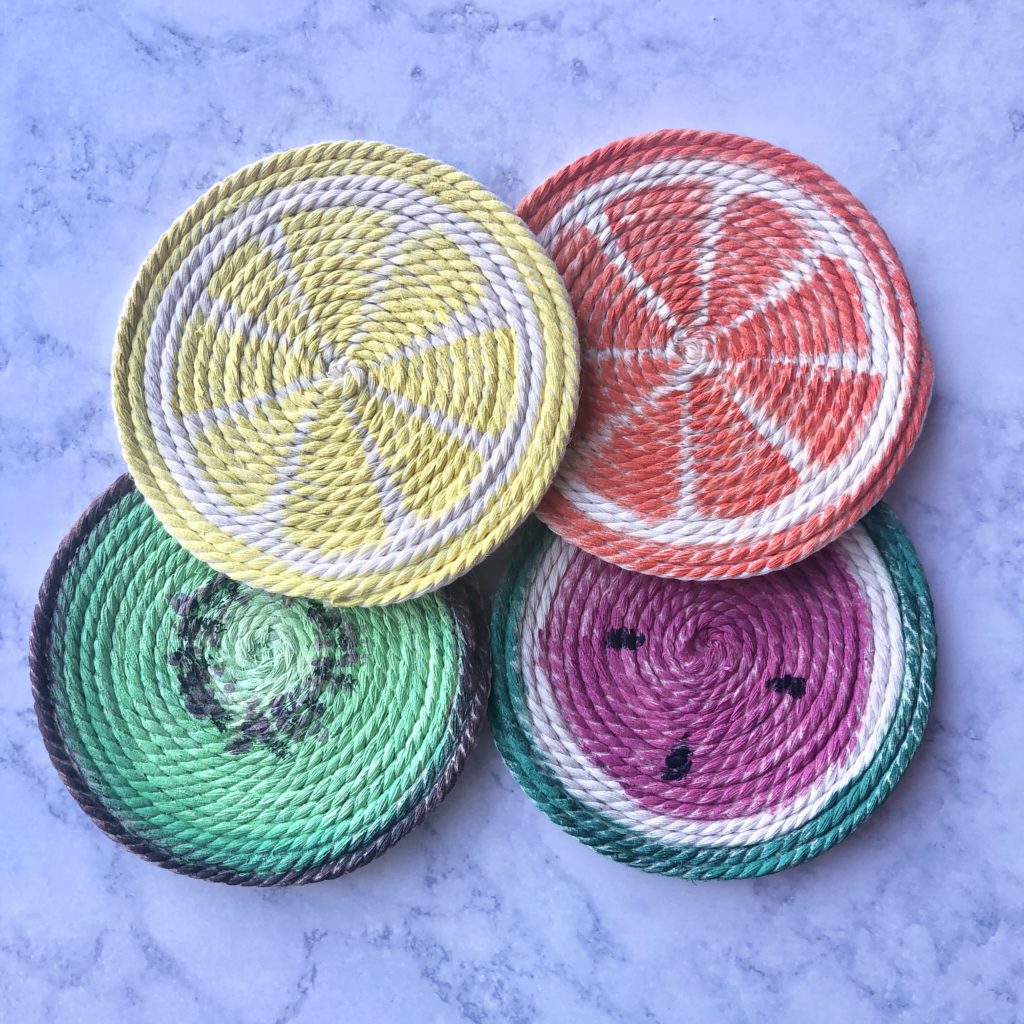 Supplies:
3mm Natural Cotton Macrame Rope
Felt(white) or Interfacing
Fabric Paint
Hot Glue and Hot Glue Gun
Scissors
How To:

Trace out a circle on the felt or interfacing(it's a bit sturdy) measuring in approximately 3.75 inches in diameter and cut them out. I made 4 but you can make as many as you'd like and set aside.
Heat up your hot glue gun while you cut the macrame rope. Measure one piece at 111 inches for each coaster.

Starting in the center of the felt or interfacing, glue down one end of the rope. Begin wrapping the rope in a spiral formation and glue down as you go. Continue until you reach the end of the rope.

Tuck the end slightly under the backing. Be sure to spread a bit of glue onto the end so it doesn't fray.

Once you have all the coasters made you can begin to paint. I chose fruit but you could paint anything you would like. These would be adorable with a nautical theme, a geometric pattern, or initials.
For the lemon and orange pattern I lightly drew out lines with a pencil to keep it symmetrical. Then I used orange and yellow fabric paint to color the perimeter and the pieces of orange and lemons. Feel free to paint the outlines white. I thought they looked cool without but yo be the judge. 
The watermelon is pretty self explanatory. I used green on the perimeter and pink in the middle. Once dried you can add black for the seeds. Again if you want to add white, by all means, go ahead.
The kiwi took a lot of mixing. I used brown around the border but needed to to mix green, yellow and white to get the perfect colors. Using the end of the brush I lightly tapped the brush down to create the seeds.
Let them all dry thoroughly before using them and enjoy!

---