DIY Santa Camera Ornament
DIY Santa Camera Ornament
Whether you are looking for a fun good behavior reminder for your kids, an Elf on the Shelf idea or just want to make a fun ornament this is an easy and quick to make.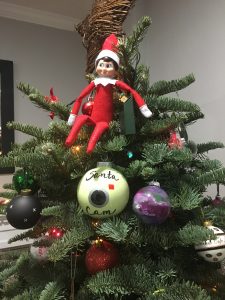 What You'll Need:
One glass or plastic(I used a plastic one from the Dollar Store)

Acrylic Paint

Sharpies
How To:
Using Sharpies draw on the camera lens and flash.

Open the top of the ornament and pour about two tablespoons of paint in.

Swirl paint on the inside until it is completely covered. It can be helpful to gently tap the ornament to spread the paint.

Once covered, turn the ornament upside down to drain any excess paint.

Put the top back on and hang on your tree!
---